Louisiana Film Sound
Thanks for stopping by. I'm a Production Sound Mixer and Member of IATSE 478. I had the honor of being the Production Mixer for Oscar Nominated "Beasts of the Southern Wild". I have a work ethic second to none and work well with every department to get the best sound we can. My boom-op Matt Champagne and I have worked as a team for over 7 years and bring a high level of professionalism to each and every project we work.. I have 30+ years of recording experience...
A few weeks from Wrapping up Season 1 of Marvel's Cloak and Dagger and finally completed updating my Bourbon Runner Cart.. Now have duplicate carts gear wise.. Full studio cart with more bells and whistles, Runner cart for those tiny spaces French Quarter locations can present.. Biggest update was tracking down a Lectrosonics Field Venue to match bag rig to cart.. Also, had the great fortune of finding the amazing Micron 700 series Wireless for my primary boom.. They sound amazing and very happy that both carts now are sonically identical with matching METADATA!! Also, Cloak and Dagger is my first show with the really compact Follow Cart.. It forced us to really examine what we needed to carry with us to set and has been a big hit.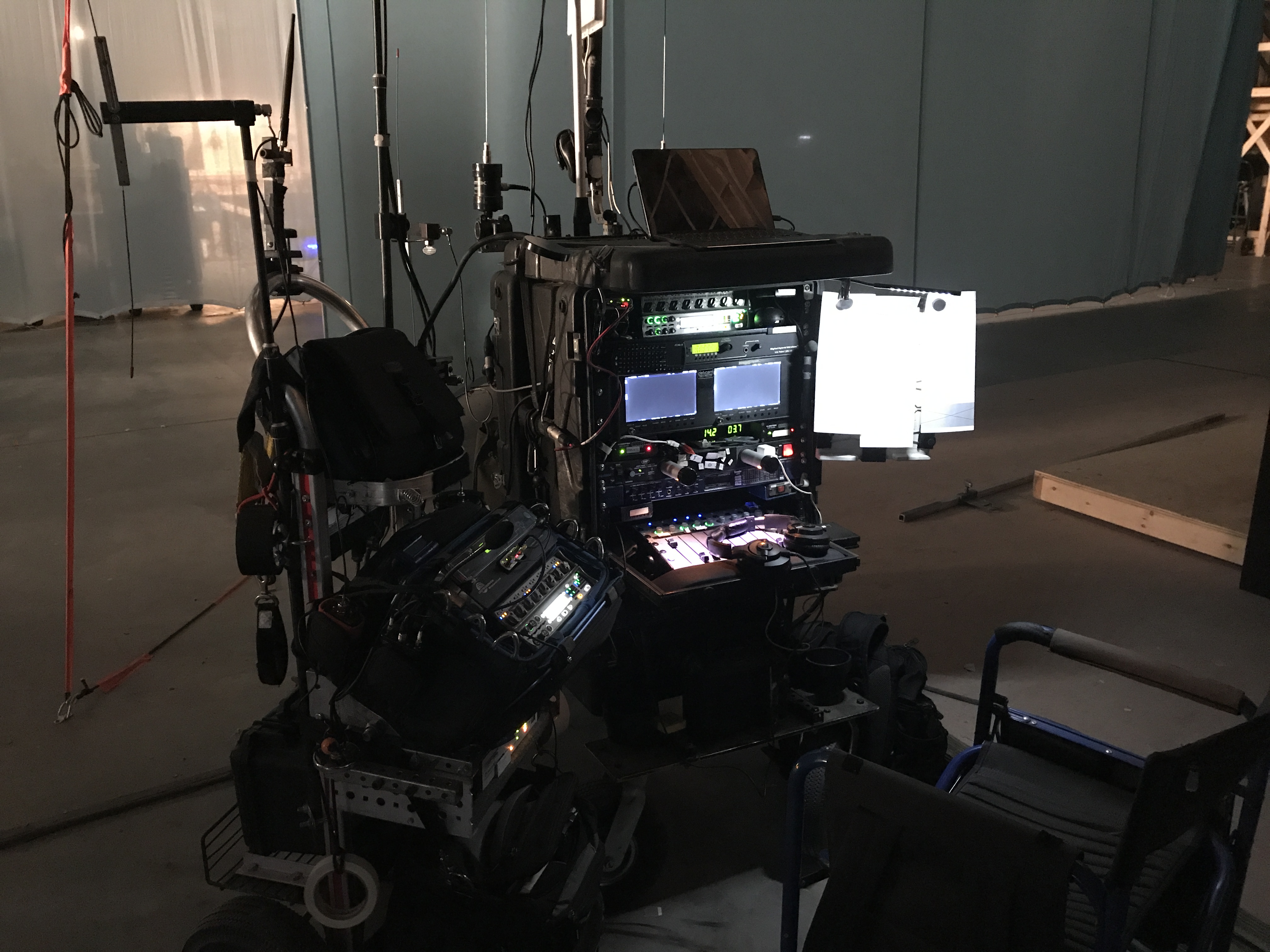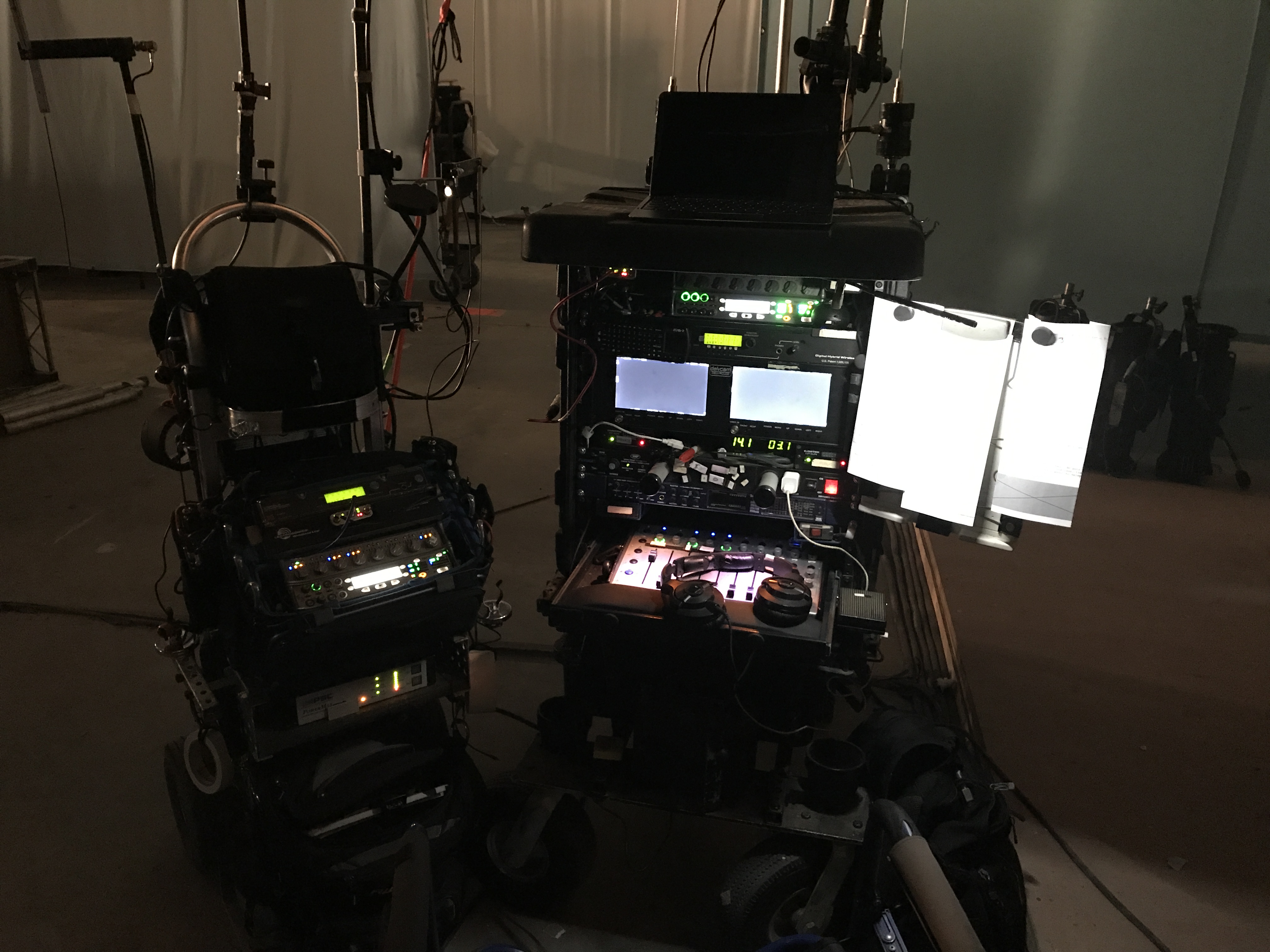 Also, I mixed the Pilot for a Show on TNT called Claws, Here's the teaser for Season 1 coming this summer
Finally, the trailer for the ABC remake of Dirty Dancing... This was a lot of fun with really great music.. May 24th for this one..
Sound Devices has posted a nice interview we did at the end of last year....Really appreciate the time... Great products!
http://www.sounddevices.com/in-action/mark-leblanc
Return of the Roadrunner Quick Cart! Same basic design I started off with that eventually developed into my current full cart. Can still pull the bag off for quick work on the run but now have a mini cart for those extended scenes that require more capability but don't have room caused by either parking (Can't get trailer in) or speed. In the case of this picture, the entire crew worked from stake beds as we ran off a quick succession of quick grabbing scenes.. A few things to add but very happy to have the little guy back in the arsenal..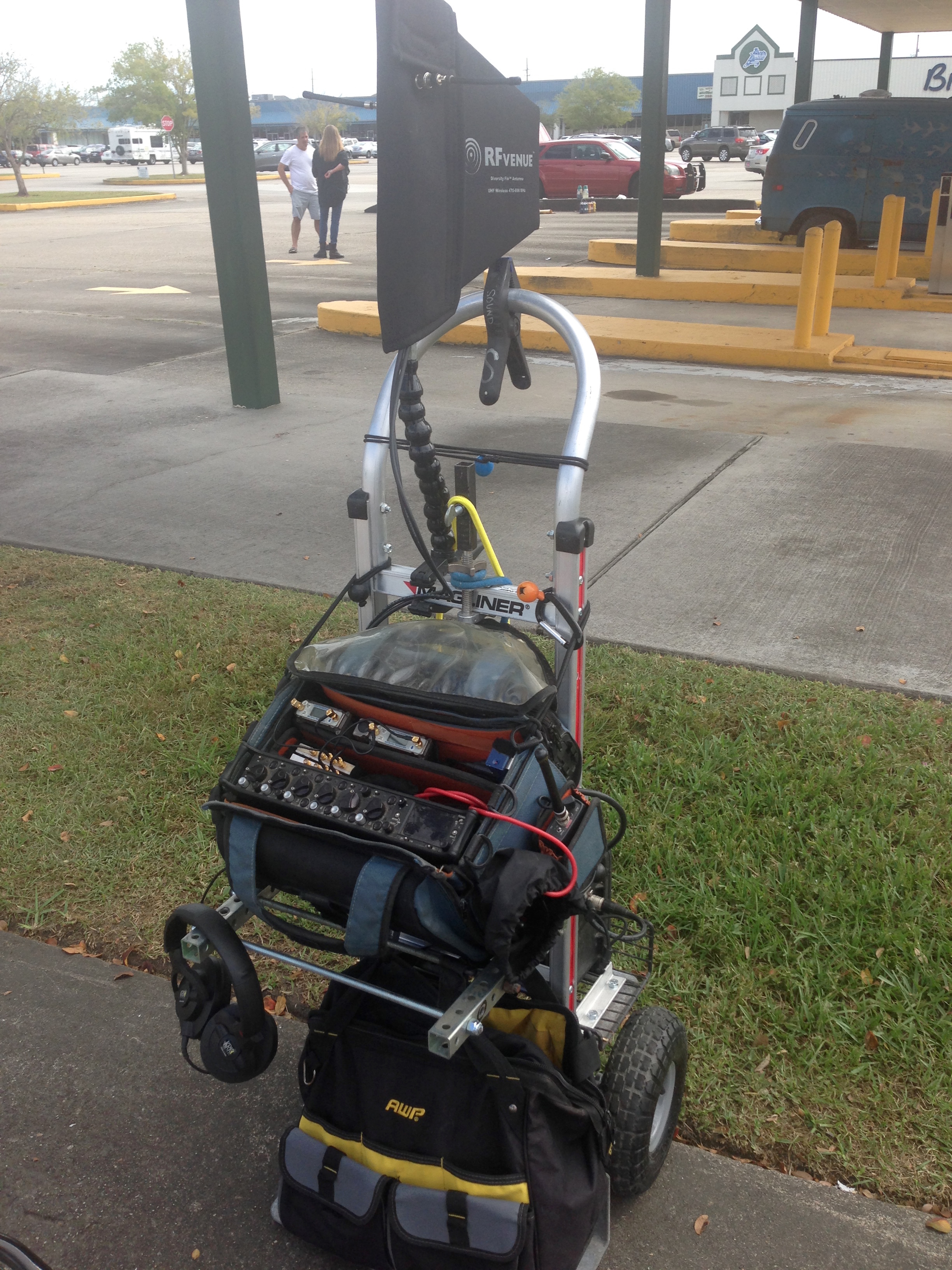 Follow Cart upgrade Aug 2016.. After running a few shows with the 2016 rebuild. I added a few things to the follow cart to make it a bit smoother workflow for the crew.
To the left, added slides for the Lav boxes and an articulating hook arm.. This allows my utility to quickly load Lavs, Transmitters and other accessories into a work bag and head off to basecamp to mic talent.. It's really helped clear off the deck of the cart for more working realestate.. Full test comes in Sept for a TNT Pilot called "Claws" shooting in Florida and New Orleans!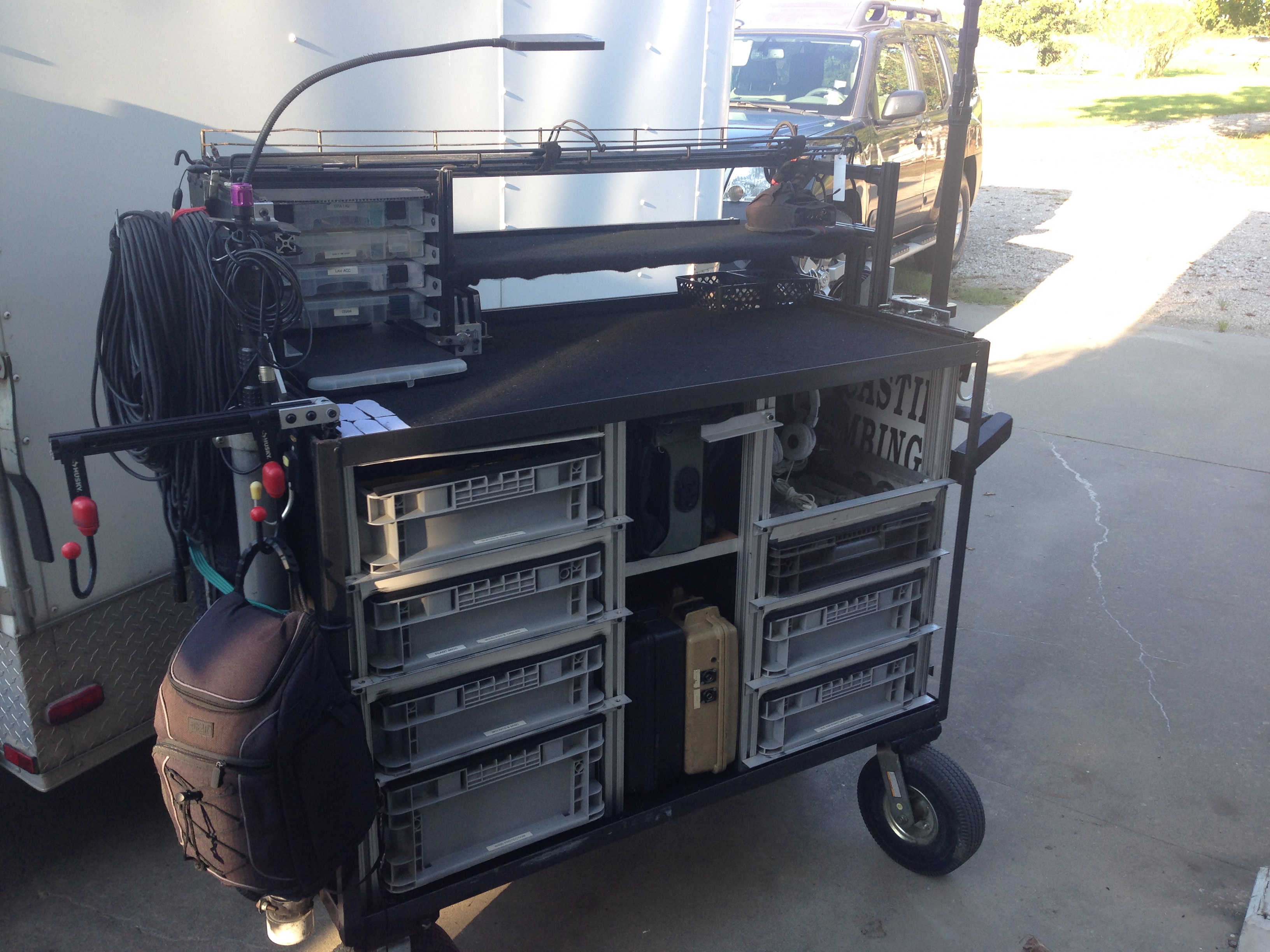 Dirty Dancing Full playback rig with phase locked timecode integrated into my cart. Brought an old friend the MOTU Digital Timepiece into the rig to provide solid timecode..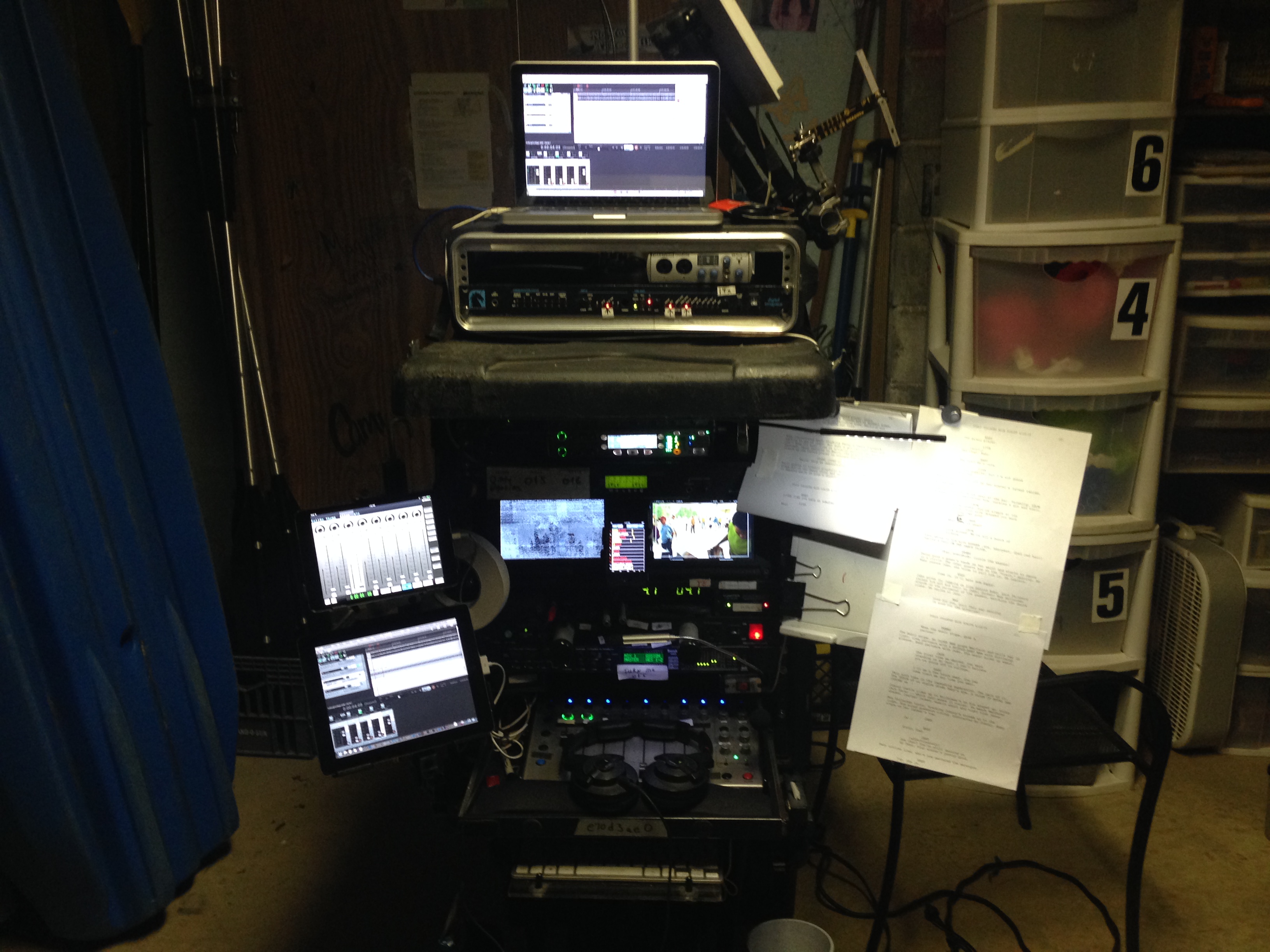 Follow Cart 2.0 is complete.. Just in time for the ABC Event Movie Dirty Dancing in North Carolina!
The designed the cart to be shorter and more light weight with a whole lot more storage space.. Mission Accomplished! My
Original cart can be seen a few pictures down.. Great cart that served me well but excited to put the new one into service....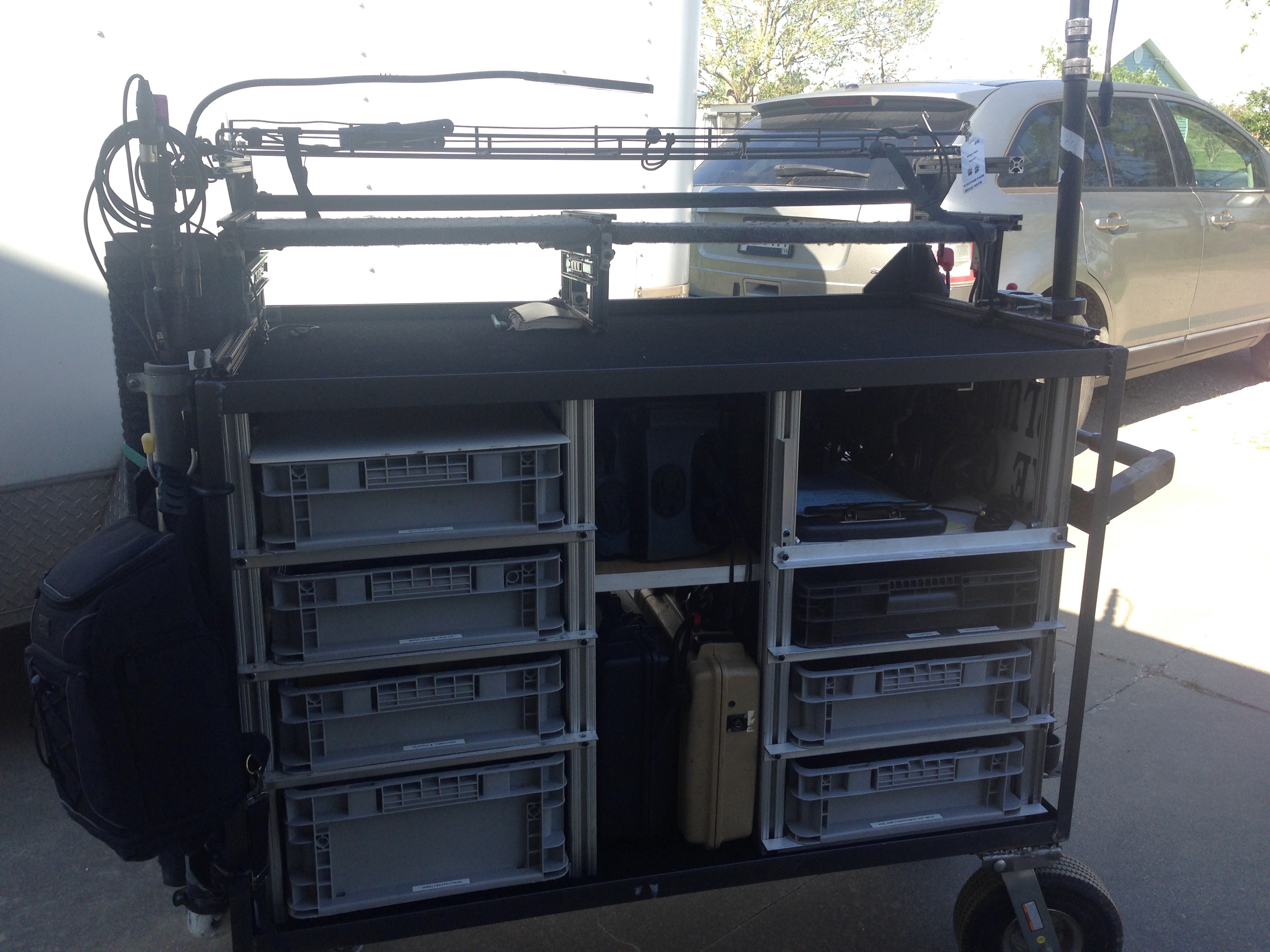 Full Kappa's with guests! 12 Tracks of Fun...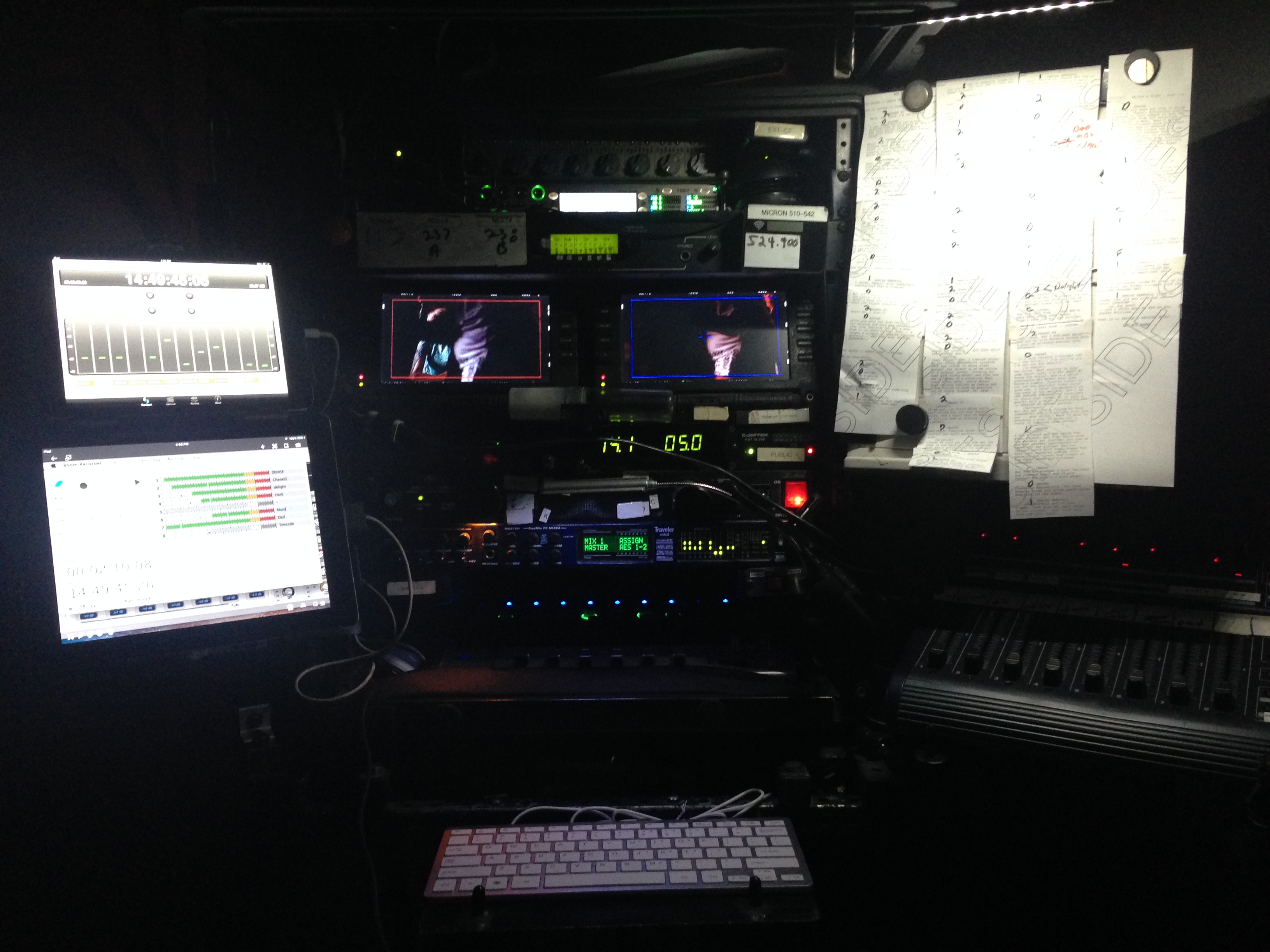 Front and center in the Kappa Rotunda.. Source of all our reverb..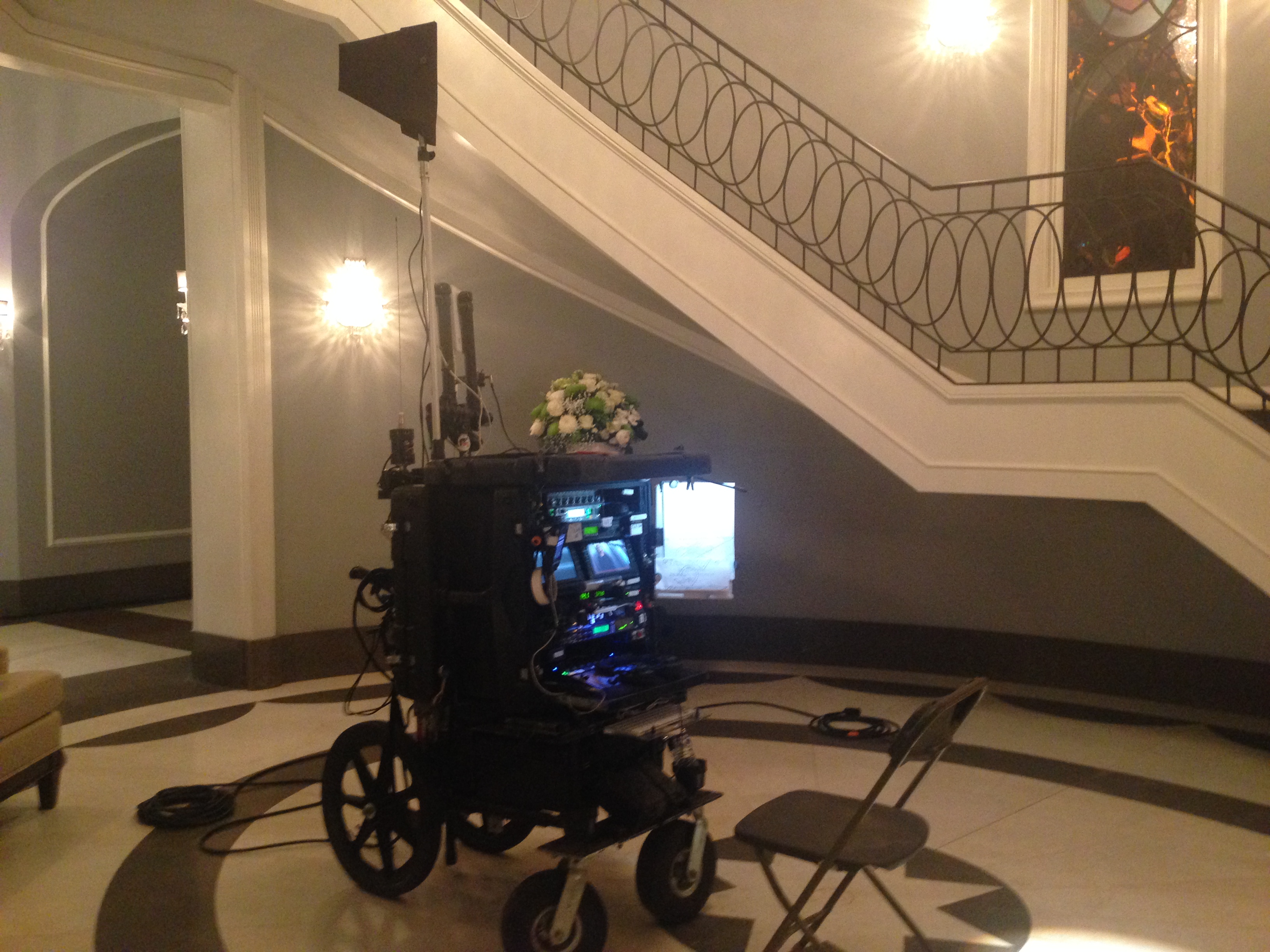 Full cart in action on Freakshow..Used Reaper to feed lines to actor in earwig then created a Mix-Minus routing in the 788t.. Lots of fun.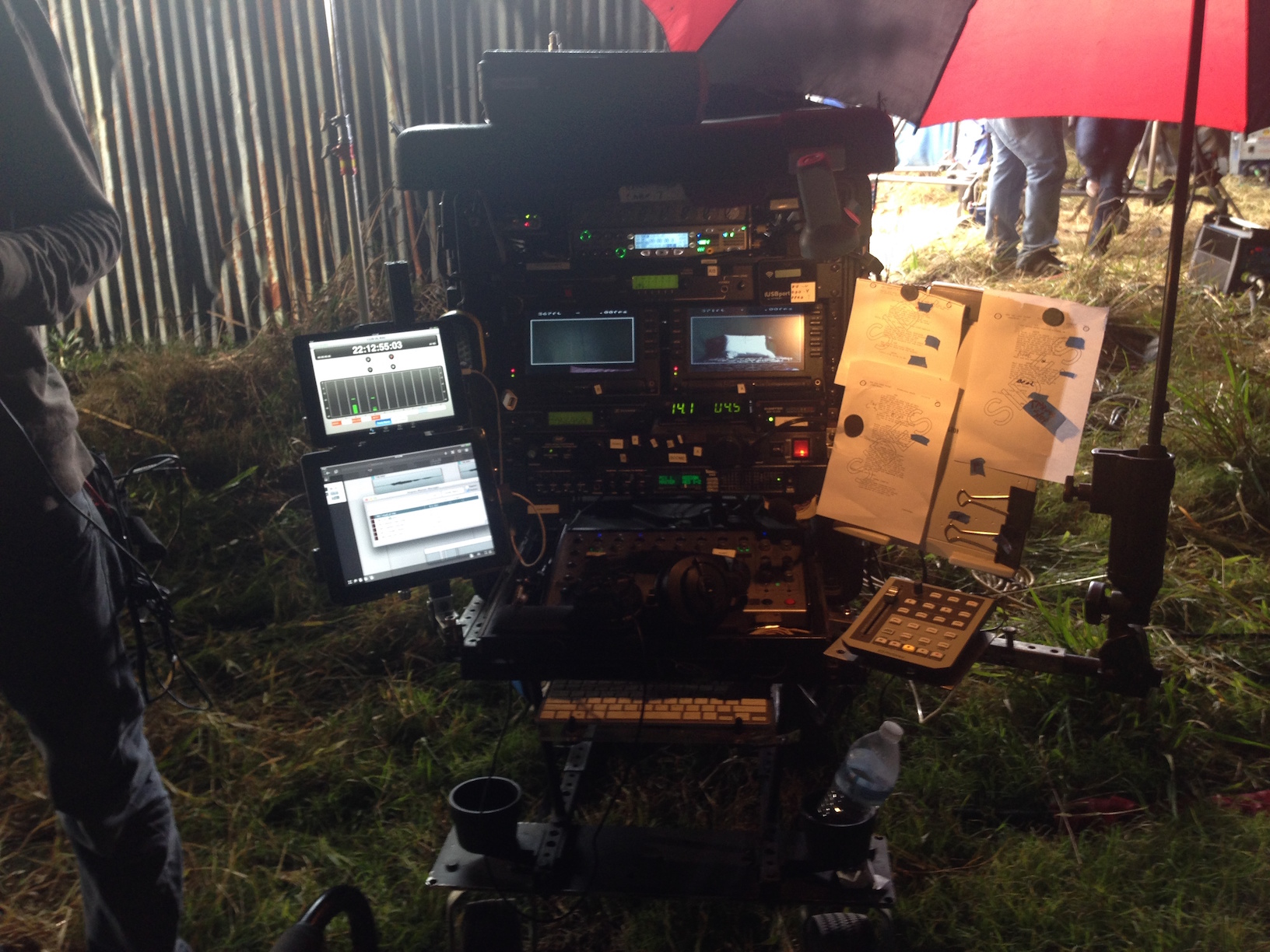 Summer 2014 Cart / Follow Cart Upgrade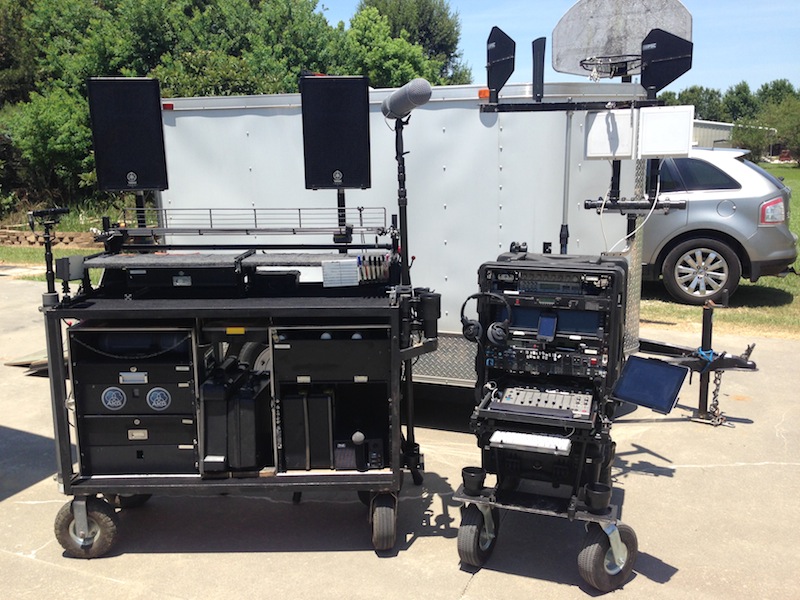 iPad Mini running CL-WiFi, iPad controlling MacMini running MOTU CueFX- Full onboard Playback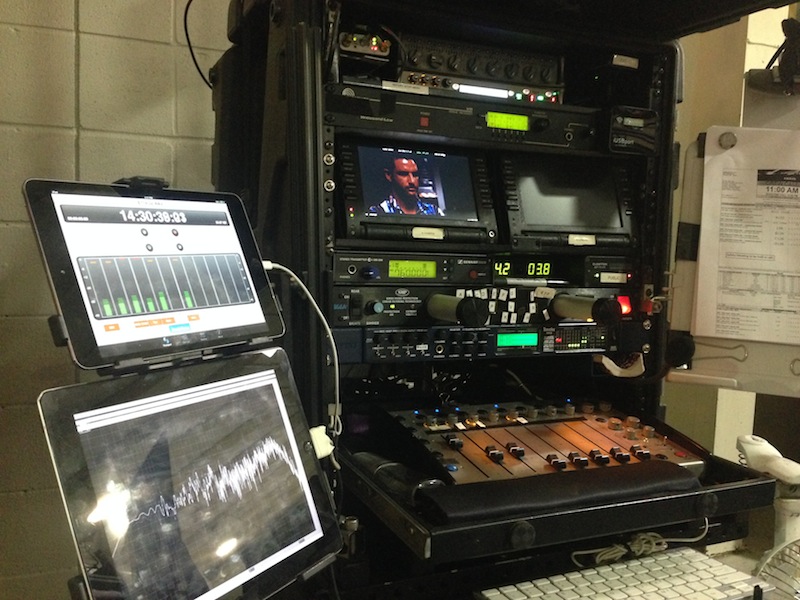 My office..